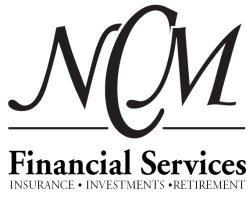 No One Cares More
Norris C. Ming, ChFC® , LUTCF
Welcome to our Web site!

Because many people regard the process for attaining their financial goals as complex and confusing, they often miss out on many potentially rewarding financial opportunities. They also take unnecessary risks and fail to adequately protect their assets.

That's where NCM Financial Services can help. Our goal is to take the mystery out of investing, managing risk, preparing for retirement, and preserving your wealth. By helping you acquire the information you need to pursue your financial objectives, we hope to establish long and trusted relationships.
Please click here to view our most recent press release.
From time to time businesses may want to revisit whether the current organizational structure is meeting its needs.

Having proper legal documents in place can help when you are unable to make your own medical and financial decisions.

The key dynamics behind the U.S. trade deficit including trade issues with China and international trade agreements.

When leaving a job, what you could do with the assets you've accumulated in your employer-sponsored retirement plan.
Estimate how much would remain after paying income taxes and penalties if you took an early distribution from a retirement plan.

How much would your monthly lease payment be?

This calculator can help you determine whether you should consider converting to a Roth IRA.

This calculator is designed to help you attach a dollar figure to your life's work.